SHUGO CHARA
WAAAHHH MY FAVORITE MAGI GIRL SERIES EVER *ESSPLODES*
okok, so like the premise is that "all kids holds an egg in their souls.. the egg of our hearts.. our would-be selves... yet.. unseen......." (and if you watch this anime you WILL repeat this quote exactly like the narrarator says it EVERY single ep, or maybe i just had adhd. but it's so fun leave me alone)
so in comes this girl named amu (girlie on your left right there) and she's regarded as 'cool and spicy' and is super popular... but really she's just anxious as hell all the time! she wants to be herself around people and make friends but cant! so one night, she wishes she could be more like her true self...
and gives birth to three eggs LMFAOOO. she still goes to school like always, then bumps into her crush, tadase, the prince of the school.. and is super rude to him because, again, she never knows how to be herself... but thankfully not only is tadase forgiving, he also realizes she has three eggs (she's #special!), and helps her realize why she has them and what they are.. by asking her to join the student council, a bunch of students who also have eggs and the little guys who come out of them!
and what are those little guys...? SHUGO FREAKIN' CHARAS, BABY!!
---
like first off? amu solos all of your faves fashion wise. ALL. her style is what made me get a visual kei dress for my 5th grade graduation. i bought her bag she keeps her eggs in to keep my phone in for one of my elementary school field trips. (back in the days where there was no anime merch in stores, and i bought it on ebay..) i still want big ol slouchy legwarmers TO THIS DAY!
and amu was just.. so relatable for me. i was such a shy person that people thought was ~smart and mysterious~ but no girl, i just had anxiety! a lot of neurodivergent people pretended to be nonhuman as a child to cope but girl i was a magi girl in my head, you couldnt tell me nothin'.
my favorite character is amu obviously but i also really liked kukai! something about genki boys is so cute, i truly like a peppy jock mf. idr how i felt about ikuto, but rewatching the series i dont like him much anymore LOL hes kinda annoyang.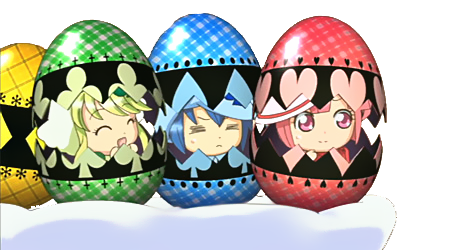 my favorite shugo chara guardian character has to be miki! not only is she blue, my fav color at the time, she's also a bit tomboy-ish and an artist!! but my favorite transformation/outfit is ran's. no matter what, i will always default to being a silly pink girlie..
BUT SPEAKING OF TRANSFORMATIONS. WATCH THIS RIGHT NEOW.
YOU GUYS WEREN'T THERE YOU DONT GET IT WUHH *WAILS* OH AMUUUU OOUUGHH *CRIES AND THROWS UP* i literally did the 'atashi no kokoro: UNLOCK!' bit SOOO much and yknow what ?! im bout to pepper it back into my gestures in 2022.
the music for shugo chara was so good too.. they were all done by this girl group named 'buono!'? and like, shugo chara had three seasons: the original, shugo chara doki (continuation), and shugo chara party (meh, also had live action segments) so there were MANY OPs/EDs but they all banged.
i'll share the very first OP so i dont accidentally spoil with future OPs, but man!!
hop, step, and jumpu your ass into watching shugo chara PLEAAASEEE, i swear it's the best! there is no dub . but that's fine because i now recognize amu's seiyuu anywhere, she's fantastic!
to any miraculous fans (yes, all three of you) you could finally see what your show would be like if it was original and actually good. ANYWAY TOODLES!
---
wanna see a closet cosplay i did of amu in 2018?

alright, close it, stop looking !! (*ノ∀`*)